On Tuesday, April 21, Sean Caspian and I had the opportunity to see Nightwish at the Ogden Theatre here in Denver. We've both been fans for years and wanted to see their new singer, Floor Jansen, slay some epic vocals. We initially snagged our tickets via Enter the Vault during the pre-order and waited the six months until show time. That was an anxious six months for both of us. As we got closer to the show date, I started asking around for a press pass to do this review justice. Something about a smartphone camera makes me want to hurl. I initially wanted to combine the concert review with our Endless Forms Most Beautiful album review… but that would've been a multi-thousand-word epic. Instead, we'll finish the album review next week and put the concert review up today. Cool? Great. I have to give a shout out to Nightwish's US label — Nuclear Blast USA — for hooking me up with the photo pass for the show. It made the experience better than we could've hoped, and we shot some awesome photos.
So how was the actual show? Absolutely epic. We'll break it down by band in the sections below. The tl;dr version is that you need to see this show. Nightwish is absolutely amazing with Floor Jansen as the lead singer… adding Sabaton and Delain makes this ticket so much sweeter. If you haven't heard of Sabaton, you're probably American (I'm only sort of kidding). They're currently one of the top-selling artists in the world. Delain has deep roots with Nightwish — Marco does studio work with them — so having them on the ticket is very fitting. Check out the upcoming tour dates and get there. If you're anywhere close to the remaining cities, we highly recommend seeing this show.
Delain at the Ogden Theatre in Denver, Colorado
First: I have to apologize to Delain for our lack of good photos. I got stuck in the line out front and missed the first three songs. Most venues only let you take photos up front for the first three songs. I only got a couple good shots from the crowd. I was super bummed, but I was glad I heard most of their set. Sigh.
Delain's lead singer, Charlotte Wessels, was perfectly beautiful on stage, both in sound and aesthetics. I thought Delain was a great compliment to the symphonic metal sound of Nightwish. To my ears, they're a great female-fronted symphonic metal band that focuses on a clean, simple sound. The lack of complexity allows the listener to get lost in Charlotte's beautiful vocals. I often find myself distracted by unnecessary sound effects or ridiculously complex orchestrations. You won't hear that from Delain. It's quite refreshing.
Their origin story is interesting. Delain was originally a studio project meant for collaboration with guest musicians. That's how they initially intertwined with Marco Hietala. Originally the brainchild of Martijn Westerholt in 2002, they weren't well known until the 2005-2006 rebirth when they really started gaining traction. Eventually, the band grabbed enough exposure to start touring and later evolved into the lineup you'll see at this show. Marco joined them on stage during the opening set. It made the audience all sorts of crazy. With tight riffs and clean arrangements, Delain's set was a great way to open the show. Check them out and buy their albums if you enjoy their music. We highly recommend Human Contradiction.
Sabaton at the Ogden Theatre in Denver, Colorado
Like Delain, I hadn't heard of Sabaton before purchasing my tickets for the Nightwish show. I researched both bands and began to love each of them. I don't know Swedish, so I may not be cool enough to like Sabaton. Joakim, the lead singer, has a habit of teasing the crowd if they don't know Swedish. It was all in good fun and got a laugh from the audience. Everyone seemed to really enjoy the band's take on the power metal genre. They're certainly different from the symphonic metal of Delain and Nightwish. Joakim's vocals are thick, powerful, and have the perfect amount of growl. They're also not shy with the testosterone. Everything about their show screams man-metal.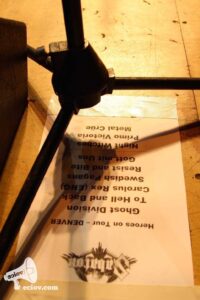 These guys work hard. They're constantly touring and doing shows. The rigorous schedule has brought a fair amount of turnover among band members through the years. This lineup was great and worked well together. After researching the group, I'm glad they evolved into this roster. Apparently, Joakim initially played the keyboard during shows. He's the perfect frontman: unapologetically animated. Putting him behind a keyboard would hurt his ability to play with the crowd. They had Daniel Mÿhr doing keyboards for a while, but when he left, they didn't replace him. The keyboards now play via a pre-recorded track for live shows. That's definitely better than putting Joakim in a box. I'm thankful for that decision.
Lyrically, pretty much everything they write references historical battles, military concepts, and heroic people. They even have an entire album devoted to Sun Tzu's Art of War. It's an interesting focus with endless song possibilities. From my limited perspective, it's all tastefully written to honor those who fought for our freedoms. It's such a cool concept. If you haven't done so previously, grab one of their latest album, Heroes, and read the lyrics as you listen to the music. It's an amazingly immersive experience.
Musically, they put on a great show. The band rocked hard — a perfect compliment to Joakim's personality. Watching them live gave me a new appreciation for their musicianship. They were perfectly together, even on their most complex riffs. The drummer, Hannes, was animated and locked in; that's not something you see very often.
Overall, Sabaton was a great addition to the lineup. The crowd loved them. Sabaton seemed genuinely surprised by the reception. It was an epic show of support for the band. Deservingly so.
Nightwish at the Ogden Theatre in Denver, Colorado
According to Marco, this is the lineup that Nightwish was meant to be. He said those words during the show on April 21. I have to agree with him. Like many long-term fans, I initially fell in love with Nightwish when Tarja was the lead singer. Their sound was new to me and set the standard for female-lead symphonic metal bands. When Anette took over lead vocals in 2007, I was initially happy with the choice, but she struggled with some of Tarja's tracks, which happened to be some of my favorite from the band. However, Dark Passion Play and Imaginaerum sold a ton of copies. Another dramatic changeover put Floor Jansen into the lead singer position in 2012. The band finally enrolled Floor and Troy as official members in late 2013. Since that point, it's been nothing but roses — at least it seems that way. Unfortunately, Jukka Nevalainen, the band's drummer has been battling insomnia for months and is currently listed as "on haitus." The band invited Kai Hahto to join them for the album and subsequent tour. So that explains the lineup you'll see on this tour. As Marco said, this group of musicians works great together. They really seemed to enjoy themselves on stage. That, in turn, gave Denver the best Nightwish show it's ever seen. Let's dive into the performance.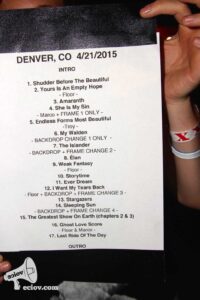 Floor Jansen is my favorite Nightwish vocalist to date. I'll talk more about her stylistic differences from the previous singers in our upcoming album review, but she absolutely nailed the performance at the live show. Her range is perfect for the whole Nightwish back catalog. She can sing Tarja's soprano tracks and Anette's alto melodies with ease. That gave us a great set full of old and new songs. Her stage presence was playfully angelic, and her vocal prowess goes uncontested by any symphonic metal singer to date.
Toumas, Emppu, Marco, and Troy were on point as well. I don't know if it was a special sauce or a genuine love for the new lineup, but they were all really enjoying the show. Emppu is quite the character: seemingly skipping around the stage with a smile on his face — busting out a solid power stance on the heaviest parts of each song. It was great to see that level of energy from him. Marco and Toumas weren't quite as joyful, but they were still having a lot of fun. I caught them shooting smiles back and forth throughout the show. Some of those even made it into the photos below. Troy came out during the second half of the show, so I didn't get many great pictures of him. His instrumentals add a unique layer not found in other bands. I love it. Musically, the band seemed perfect.
Kai did a great job filling in for Jukka. I talked with a few people in the crowd who missed Jukka's playing style. He's an extremely animated drummer. Personally, I'm glad they chose someone who can keep up technically instead of trying to fill Jukka's stylistic shoes. It seems like Jukka is making progress with his recovery, but his return could still be a long ways off. We're wishing him well, a full recovery, and much success in the future. I also want take a moment to mention the sound engineer off to stage left. He plays a vital role in the sound of Nightwish. They add so many extra layers to their music that I'd consider him part of the band. I couldn't find his name anywhere, but good job to their invisible seventh member.
As I mentioned with Sabaton and Delain, I strongly encourage you to see this show. It's the first real look we've had at the future of Nightwish. I can't wait to see what this band does next. Many thanks to the folks at Nuclear Blast USA for getting us the photo passes. I'll shut up now, so you can look at the photos. Enjoy!
If you find yourself wanting a high-resolution, non-watermarked version of these photos, please shoot us an email. Thanks!
Extra Photos from the Nightwish Show
If we took a picture of you during the Nightwish show, you can find the ones that turned out below. We don't watermark the extra photos.
Also – huge thanks to Sean Caspian for helping me with photos on Tuesday. It was great to have a second photographer covering things from the crowd. He snagged some of our favorite shots. Check him out on YouTube and Twitter.