Lately, I've seen too many Facebook New Friend Reports in my news feed and it made me use the site and mobile app less, so I set out to find an answer. If you've found this post, it's probably making you crazy as well. No, you can't just turn off these notifications — you have to convince all your friends to do it for you. Great, right? We have the awesome minds at Facebook to thank for that one.
Turning off Facebook New Friend Reports – Updated October 2019
Unfortunately, as of this writing, Facebook still does not have a way to do this from the mobile app; you must sign into the website to stop spamming your friends with Facebook New Friend Reports. If you're tired of seeing blank "is now friends with" blank, then share this with your friends and follow the instructions below:
Log into Facebook from your computer
Go to your profile page and click the "View Activity Log" button (near your cover photo)
In the left sidebar, choose the "Friends" tab (you may need to click the "MORE" link to see it)
**This is a new step** Once you open the "Friends" tab, there's a new submenu below the tab, click the "Added Friends" tab.
At the top right of the "Added Friends" section, you'll see a box — click it.
In that popup, uncheck the "New Friend Reports" checkbox.
I'd also suggest unchecking the rest of the available boxes for better privacy.
Your friends will thank you profusely.
Use the image below as a guide to turning off the Facebook New Friend Reports. It's certainly possible that the steps to turn this off will change in the future, but this should help as a visual representation. We re-verified our instructions in October 2017, and they still appear accurate.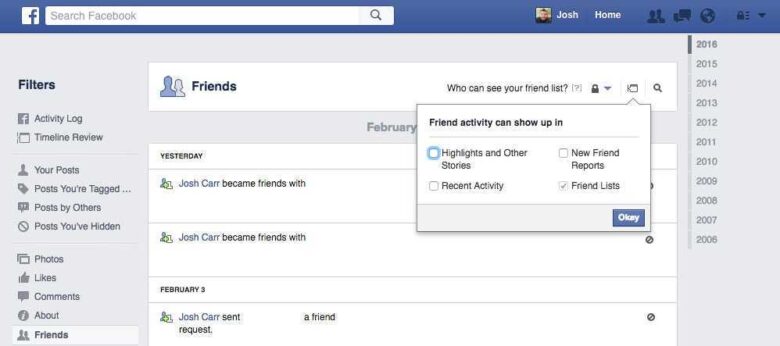 Going beyond Facebook New Friend Reports
Going a step beyond turning off Facebook New Friend Reports: I'd highly suggest hiding your friend list from everyone at this point. In my opinion, no one but me needs to know who I'm friends with and who I'm not. Thankfully, this setting is in nearly the same place as the picture above. Click on the dropdown next the the "Who can see your friend list?" text and select "Only Me" instead of whatever was there. If you've taken the time to put your friends into lists previously (I don't have time for that), you could even limit the visibility to a specific friend list. Take a look at the screenshot below for information.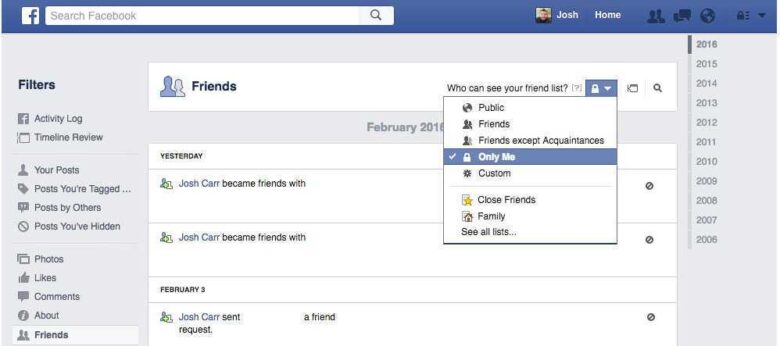 If you have any questions or think that the steps to turn this "feature" off changed with time, please comment below and we'll try to help. I hope that this makes your news feed a little less cluttered as more people find this post and turn off the spam. Please share this will all your friends so we can stop blank "is now friends with" blank.
If you want to tell Facebook that you don't like all the extra work to turn this off, please let them know through the news feed suggestions form.
Other Facebook Privacy Changes We Recommend
Due to the popularity of this post, we wanted to add some additional content to help our readers keep their Facebook accounts well-managed. Turning off "Facebook New Friend Reports" is one certainly an important step for your privacy, but we've compiled a short list of other items you should do.
Enable timeline review

We've all been there: a friend posted something inappropriate on your timeline that upset your mother. If you enable timeline review, that won't happen any more. It's in the same interface as the pictures we posted above. Just click timeline review, click the gear icon in the top right, then click enable. This will allow you to screen all the content friends post to your timeline.

Like a page without making it public knowledge

You have to go back to your main profile for this one. Hover over the "More" menu item under your cover photo. If you see "Likes" in the dropdown menu, click it… if you don't, click "Manage Sections." Turn on Likes if it's not. Go back to More menu, hover and choose likes. Hover over any of your likes, click the privacy icon in the bottom right corner, then click "edit privacy." This will allow you to edit the privacy of your likes by category. Unfortunately, figuring out what category is correct for the item you'd like to hide isn't easy. We recommend setting all of them to "Only me."

Regularly review your authorized apps

It's a pretty nasty surprise when one of your "authorized apps" decides to post something to your timeline without permission. Technically, you probably gave them permission a long time ago. That's why recommend removing any apps you're not actively using. Click the down arrow on the far right of the blue menu bar, then click settings. In the left sidebar, click "Apps". Then click "show all" in the main window. This will show you a list of all the apps that have access to your account. Probably more than you expected, right? Delete all the apps you don't use regularly, then sigh a breath of relief. If you remove a lot at once, Facebook may show you an error that the app couldn't be removed. Don't panic! Just refresh the page and it'll be gone.
That's it for now. If you have other helpful Facebook privacy suggestions, please let us know in the comments. We'd love for this resource to keep growing, so share it with your friends! We'll keep this as up-to-date as possible, but if you notice something's changed, just let us know. Thanks!